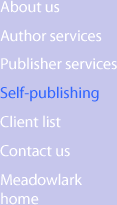 Also called "Indie Publishing," a reflection of the freedom and control an author retains, self-publishing is a viable option for those who know their market and are willing to work to reach it. There are several advantages to self-publishing as compared to signing a deal with a trade publisher:
You don't have to wait months or years to attract an agent or publisher—once you decide to self-publish, your odds of being published become 100 percent!
You don't have to wait a year and a half, two years, or longer in a publisher's queue for your book to be produced—you control the timing of your book's release.
You have complete control over content; your book is edited to your satisfaction.
You have complete control over design; your designer works for you, not a third party.
All proceeds from sales are yours. Instead of receiving 8 to 10 percent of the sales price in the form of royalties, you keep every dime. (Sales price is typically about half the retail price, so on a $20 retail book, you're looking at earning about a dollar per book with a traditional publishing arrangement.)
The stigma once associated with self-publishing, aka "vanity publishing," is fading fast. If you do well with your self-published book, a traditional publisher may want to repackage and reintroduce it. How do we know? We've edited books for Simon & Schuster that began as self-published works.
For nonfiction topics, the fact that you have a published book conveys your authority as an expert and lends a cachet that can advance your career. The fact that you published yourself does not detract from these advantages.
If you would like to explore the possibility of self-publishing, take advantage of our free twenty-minute phone consultation offer. Contact Sheridan at (541) 602-1470 or by email.
I have worked with Meadowlark Publishing Services at two different museums on two different book projects. In both cases, the museum had a mansucript that had been languishing for years because museum staff didn't have the expertise to bring the project to fruition. Meadowlark took each manuscript, edited it, and designed a beautiful publication that the museum was proud of—they even helped with distribution that resulted in increased sales!
—Irene Zenev, executive director, Benton County Historical Society.
There would be no Full Alignment without your meticulous editing and the care you put into this book. I will always be grateful.
—Tony Silard, author, Full Alignment
It's been a fun and rewarding process. Thanks for your very professional direction.
—Edward Loy, author,Tim Burr!
Meadowlark was a wonderful partner on the Finding Fire project.
—Bob Hart, executive director, Lane County Historical Society

Thank you so much for your huge contribution in creating this book!
—Victoria and Garry Prater, authors of Love and Pornography



Indie publishing may be complex, but it's not hard. You just take it a step at a time. We have prepared a schematic of the process—a road map—and we invite you to download it here, free. Please note that while there is a clear sequence in the schematic, in reality, several of the steps can run concurrently. The point of the road map is to orient you to the various tasks self-publishing entails.